by CHEON IL GUK INCORPORATED
Our History
nine years and growing
About the Name Cheon Il Guk
Nation of Cosmic Peace and Unity. In this case the word "Nation" does not mean a geographic location on our planet. It means a group of people who live in accordance with God's Principle of True Love and True Service.
About OMS - The Online Matching System
OMS is a tool - simply a tool to help in the search of one's Heavenly Spouse. OMS does not make or control the requirements necessary for anyone to receive the Marriage-Blessing. OMS simply wants to facilitate the ability to find someone with similar life Principles. OMS is the perfect tool for this purpose due to its relationship with the various Blessing Family Departments of FFWPU across the world and its dedication to respect and uphold the principles that lead this world wide movement.
THUMB 1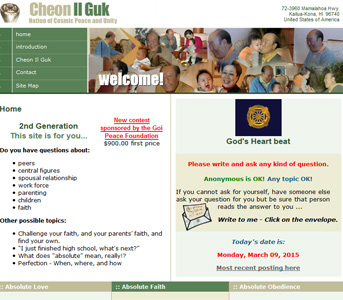 2005: Before OMS
The website www.Cheon-Il-Guk.org was created in 2005 to provide general guidance and counseling to our Unification Church membership. In September 2009 the idea of creating an online matching system (OMS) was born. It took many months to make it a reality.
THUMB 2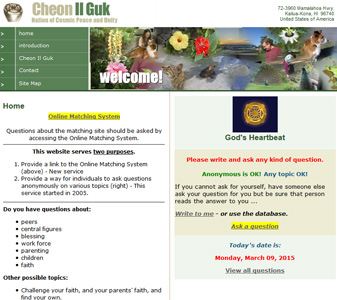 2010: OMS is launched
The notion of refining the online system to serve matching candidates was presented to the director of the Blessed Family Department, USA, and was well received by the entire BFD staff. Working together, the staff of www.Cheon-Il-Guk.org and the Blessed Family Department decided that the initial focus of this new matching system would be to serve the needs of our 1st generation members, Jacob Children, and Associate Members. OMS was official launch October 1st, 2010 but the official letter from the BFD came December 7. Cheon Il Guk Incorporated is a Delaware corporation which was establish in May of 2011 to facilitate the services provided through this website.
THUMB 3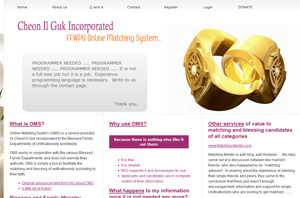 The Growing Years
From October 2010 to January 2013 the Online Matching System grew steadily. By 2011 Anne-Marie Mylar was invited to the European yearly meeting of all BFDs and was able to present OMS to a group of about 20 people coming from 13 different European countries. From the beginning, Europe and South American blessing family departments recognized the value of this application and used it on a regular basis.
From January 2013 to mid-year a great amount of money was invested to add new features to the application. A private email system was incorporated were candidates can ask each other questions without having to reveal their identity. This is very helpful to understand clearly what someone might have written on one of the essay questions. Additional features where incorporated to the "request for a full profile."
In January 2014 the filing for Public Charity Status to the Internal Revenue Service was completed. By Early summer we received a favorable review and now Cheon Il Guk Incorporated is an official non-for-profit organization that can receive funds that won't be taxable and for which the donor can receive a tax deduction.
THUMB 4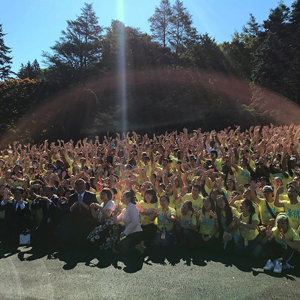 2015 - Two new modules are added
Now the next generations of Unificationists (BCs) are able to register on OMS. Their parents can follow their progress and be able to converce anonymously with another set of parents.
THUMB 5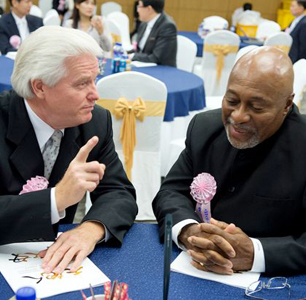 2017 - Three new modules added
ACLC and Affiliate Members who desire the Marriage Blessing are now able to find their heavenly spouse via OMS.
Special Needs individuals and their families are also able to register on OMS and seek for a spouse.
THUMB 6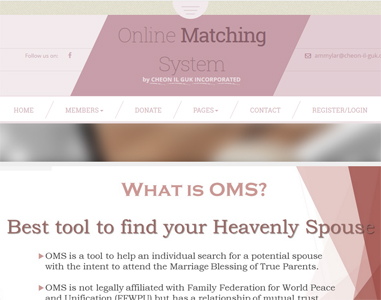 2018 - This new website is launch
We serve everyone who sincerely would like to find a spouse to attend the Marriage Blessing of our True Parents. We don't all have to be missionaries. Sometimes, simply having and examplary life will do the trick. Be the best that you can be. Every one count, God does not turn anyone away. I do not want to face God someday and being asked why I did not allow someone who was sincere, to receive the Marriage Blessing.
Anne-Marie Mylar
THUMB 7
2021 - Words are important -
Since 2018 I had a module called Affiliates and Friends - this module targetted a very specific segment of our movement, but it did not work because they did not recongized themselves with the word "Affiliates", so today I changed it. With the input of others the term "Cultural Unificationists" is going to be used or simply the word "Friends"
The word "Affiliates" did attrated individuals whom I very much welcome, today they are together with the Clergy as many of them did come because of them.
Anne-Marie Mylar

Load More
Top